This is the first in what I hope will be a series of posts on hypermiling. Expect MUCH more than the typical "Drive slow, accelerate gently, avoid braking… etc., etc., etc." that you may have heard before (and that are often incorrect). I'm going to get technical. Consider this the introductory chapter, in which I'll offer an explanation and general outline for what will follow.
Hyper-what?
Hypermilers are drivers who attempt (often obsessively) to extract every possible mile (or kilometre… up here in Canada) from a tank of gas, whether through driving techniques or vehicle modifications or both. I first started experimenting with hypermiling in 2007, having gleaned some information from websites and forums such as http://www.gassavers.org, http://cleanmpg.com, and http://www.ecomodder.com. I have a strong background in engineering and science (a B.A.Sc and M.Eng. from the University of British Columbia and I've been working in the field of Electrical and Mechanical Engineering for 12 years). Though the information on the above sites was a useful starting point, I found that much of it is was obvious and much of the rest of it was misguided. Some techniques are presented that produce good results, and there are certainly many members achieving excellent mileage, but the explanations given for the phenomena at work sometimes make my eyes roll. In a forum format it is difficult for an average reader to distinguish voices worth listening to from those that aren't. My experience has been that there is a general lack of understanding of the science behind hypermiling and there is no single source where the science is explained in detail. That is something that I hope to correct through this series of posts.
Why do it?
First, let's state the obvious. If you want to consume less fuel, the surest way to do it is to drive less. However, even walking and biking result in fuel consumption. I've heard it said that a meat-eating cyclist is responsible for more fossil fuel consumption per mile traveled than a vegetarian SUV driver. While I'm not certain of the validity of that statement, it does illustrate a point. A person's effective fossil fuel consumption goes well beyond what they burn directly. In any case, the intent of this guide is not to discuss the merits of driving or not driving. I will leave it to the reader to determine that for themselves.
If you do drive I will assume you may be interested in reducing your fuel consumption. Perhaps you wish to save money. Perhaps you wish to save the environment. Perhaps you wish to reduce your dependence on foreign oil. Perhaps you are just looking for a worthy obsession. One of the best explanations for hypermiling I've seen comes from MetroMPG (an active member of several online forums – see his website at http://www.metrompg.com). He says:
No, it's not just for the money.

I calculate fuel consumption on each tank of gas because it's a challenge. It's a high performance activity; a technical skill; a game, like GT4 and sail boat racing.

In my university days, I took a number of car racing courses. All of which boiled down to: "how to apply a few rules of physics to your driving technique in order to squeeze the maximum possible speed from a given radius, without skidding off into the weeds." The feedback was hearing the tires sing just the right song through the curves, and out-pacing other drivers in identical cars.

Economy driving is just a different kind of performance driving: "how to apply a few rules of physics to your driving technique in order to squeeze the maximum possible distance from a given amount of fuel." The feedback is the numbers at each fill-up, and (hopefully) beating the ratings. Plus the satisfaction of knowing it's much easier on the machinery, the environment, and the wallet (if you don't go overboard with efficiency mods).

It doesn't have the instant gratification of screaming through the curves… but it's not going to cost me my license either. Driving at the limit of grip is something safely done on the track, but driving efficiently is a game you can play anywhere, all the time.
Does it really work?
Given the number of fuel saving scams out there, I wouldn't be surprised if you're skeptical. I was skeptical when I started too. I had heard it said by many that the most significant gains could be had simply by changing one's driving style. I thought I was an "economic" driver and I was skeptical that I could achieve significant improvements just by changing the way I drove. After a little research, calculation and experimentation I discovered just how wrong I was. In hindsight it seems obvious. The way we are taught to drive – the way auto manufacturers intend their vehicles to be driven – simply isn't an efficient way of converting fuel to kilometres. In the first year after I started hypermiling, I improved my mileage from 40 MPG to 65 MPG without any vehicle modifications other than the addition of a vacuum gauge (the proper use of which I will describe in Chapter 3). In the remainder of this series I hope to describe how you too can squeeze the maximum possible distance from a given amount of fuel, under real world driving conditions, without annoying nearby drivers (well… not too much anyway) and without spending more on vehicle modifications than you're likely to save on fuel.
It's all about energy
Hypermiling is all about conserving energy. Thus it can best be understood through a systematic exploration of the energy flows in a vehicle. The first law of thermodynamics, often referred to as the law of conservation of energy, states that for a closed system whose internal energy remains constant, the total energy input must exactly equal the total energy output. Energy in = Energy out. Considering a vehicle as a closed system, energy is input in form of fuel. Energy flows through the system from engine to gearbox to drivetrain to wheels, etc. At each step along this flow, some energy is output from the system in the form of heat. Thus there are many paths through which energy is output from the system. The energy flow can be represented graphically as I have done in the diagram below.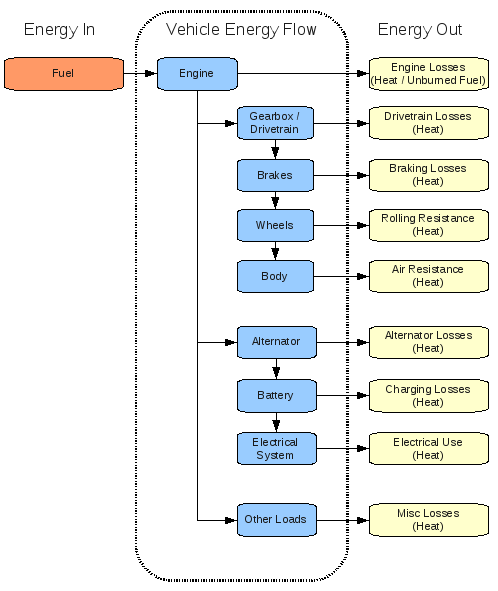 The first law of thermodynamics requires that for a given distance traveled, the combined total of all energy outputs in the above diagram must exactly equal the energy input in the form of fuel.
Aside: The astute observer may note that the underlying assumption that the internal energy of the system is constant isn't entirely true. The speed of the vehicle, the level of charge of the battery and the altitude all affect the internal energy of the system. However, these effects can be ignored as long as the vehicle is in the same state (same speed, altitude and level of charge of the battery) whenever the energy inputs and outputs are measured. Note that the amount of fuel in the tank does NOT affect the internal energy of the system since I am considering the gas tank as being OUTSIDE the system. Instead, I consider fuel as entering the system when it passes through the fuel injector. This allows more precise comparison of input to output energy and does not require that we consider the fuel in the tank as an internal energy of the system.

Note that to move a vehicle, the only losses which MUST be overcome are rolling resistance and air resistance (drag). If you were to push a vehicle by hand instead of driving it, you would be supplying the energy input. Rolling resistance and drag would be the only energy losses. Rolling resistance and drag are losses imposed by the environment from outside the system. All other losses are just an indirect result of the methods employed within the system in an attempt to overcome rolling resistance and drag.
A certain amount of fuel consumption can be attributed to each energy loss. It is a useful analogy to think of each energy loss path as a virtual hole in a your gas tank that fluctuates in size in response to your actions (vehicle speed, engine RPM, engine load, braking habits, etc). Every drop of fuel you put in your tank eventually exits the system through one of these "holes". Hypermiling, at its heart, is the art and science of plugging the holes (at least partially) through driving techniques and vehicle modifications. The remainder of this series will be a systematic exploration of the energy inputs and outputs shown above. I will attempt to follow the outline below (I'll change these to links as I post new information):
Chapter 1 – Introduction and outline
Chapter 2 – Fuel
Chapter 3 – Engine Losses
Chapter 4 – Drivetrain Losses
Chapter 5 – Braking Losses
Chapter 6 – Rolling Resistance
Chapter 7 – Air Resistance (Drag)
Chapter 8 – Alternator and Electrical Losses
Chapter 9 – Miscellaneous Additional Losses
Chapter 10 – Summary
Hopefully I will be able to post a chapter every couple weeks. In each chapter I'll discuss:
1. The science that describes the phenomenon including the equations governing the energy flow.
2. How to measure the energy losses on your own vehicle to determine parameter values for the equations.
3. Driving techniques and vehicle modifications to reduce the energy losses.
4. The degree of reduction achievable for the particular energy loss, and the effect on overall fuel consumption.
5. Results from some of my own experiments.
If you have comments related to topics that I haven't covered yet, please save them until the related topic is posted. Consider subscribing to my RSS feed and/or email notifications via the link on the main page if you want to be notified as each chapter is posted.
Stay tuned.